7Solutions India is an outsourcing structural engineering firm has constantly offer low-cost Structural Drafting, Design and Drawing Services to worldwide structural engineers, fabricators, erectors, architects and general contractors. Our skilled and experience structural engineers knows precisely about the international building and structure standards that is why we never face tough time while dealing with offshore engineering client, entrepreneurs and businesses across the USA, Australia, Canada, UK, UAE and around the world. We take pride in establishing a long-term partnership with our worldwide clients by offering high quality structural drafting, design and drawings that's on time and within budget. We constantly strive to improve our structural engineering services by listening to our worldwide clients and providing a consistently high-quality structural drafting, design and drawings services to meet their specific structural engineering requirements and achieve their desired goals. CLICK HERE to fill up small quick contact form or email: info@7solutionindia.com which starts to build business relationship with us.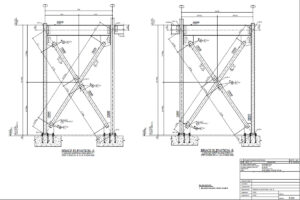 Structural engineering services are widely used in the different disciples of engineering and technology for making different type of digital structures. It also provides better options for proposed building structure and imaging the view. Value of structural can be improved by using structural engineering services. Structural engineers use structural drafting, design and drawing services for 2D drafting, 3D modeling, steel detailing, shop drawings, construction documentation, fabrication drawings and structural analysis. The entire process of digital designing can also be done according to the requirement with in fraction of times using latest and sophisticated CAD software like AutoCAD, Revit, StruCADD, Tekla, STAAD Pro, RISA 3D and many more.
Our Structural Engineers working Process
A quote request is received from you or your company
Your information is reviewed by our estimator and a quote is generated
A contract is signed by your company and 7Solutions India; after receipt our detailers will generate structural approval drawings. You may also request your construction drawings to be created at this time
Approval drawings are sent to our checker for review
Checked drawings are coordinated; comments and concerns are fixed and verified
Approval drawings are issued to your company. Drawings will be sent to you in pdf, tiff, dwg, dxf format for your convenience (Unless otherwise requested)
The approval drawings are returned to 7Solutions India with markup. All comments will be incorporated into the drawings 
Construction drawings are generated from the newly coordinated erection drawings 
All drawings are again sent to our checker for review 
Checked drawings are re-coordinated to fix all issues noted by the checker 
Final structural drawings and construction drawings are then re-issued to your company 
 
Our aim is to provide you, our worldwide clients with practical, cost-effective structural drafting, design and drawing services to meet the challenges of development in the 21st century, specifically tailored to all your structural engineering needs and requirements. Contact us or send us email: info@7solutionindia.com to your structural drafting, design and drawing requirements. Our representative assists you within 1 business day.